MEDICAL ENT Diagnostic set
MEDICAL ENT Diagnostic set has CE and FDA certificates and meets European and American standards.

Materials of ophthalmoscope and otoscope, aluminum alloy and plastic, etc.It is a professional electronic ear speculum, which is suitable for the examination of the eye, ear, nose and throat department, hearing aid store and the examination of your own ear canal and eardrum.
Product Description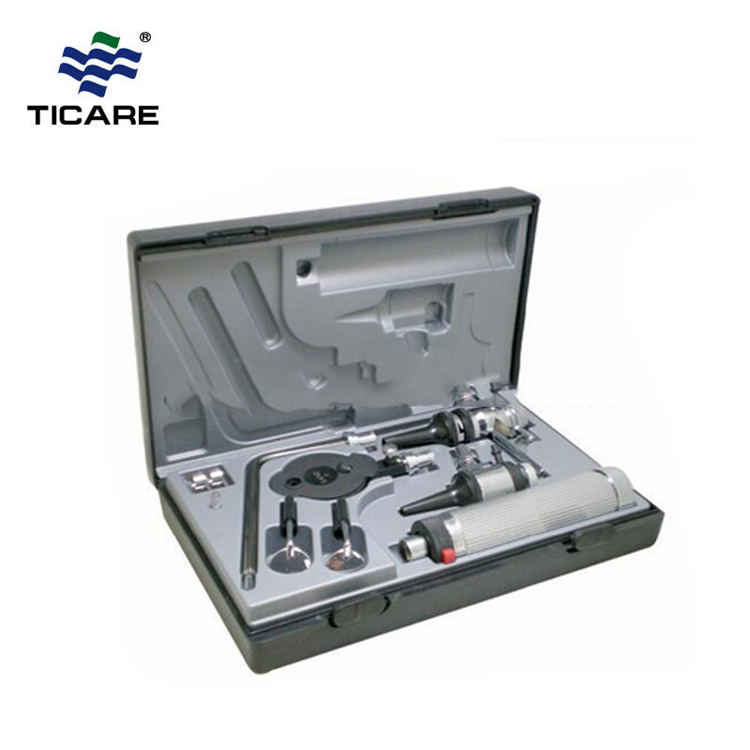 Product Parameters

Contents:

1

-1 otoscope with swivel magnifying lens




-simple to attach and swivel 360°,4-fold magnification




2

-3 sizes ear speculum

-reusable specula (2,3 &4mm) with stainless steel fitting




3

-1 ophthalmoscope with lens wheel




-Correcting lens diopters ranging from-20 to +20




4

-1 bent arm Illuminator




5

-2sizes laryngeal mirrors

6

-1 battery handl("C"battery not included)

-ageing-resistant chrome-plated metal head

- bayonet conector for quick and secure attachment to handle

7

-1 Batteries

- 2xAA batteries

8

-1 tongue depressor holder




9

-1 spare halogen lamp




-HL2.5V halogen lamp,similar to daylight,simple exchange of lamp at the front of the instrument head




Packing:

- manual

- plastic box

- PE bag

- color paper box
Feature
Otoscope: View the tympanic membrane, external ear canal to diagnose outer and middle ear pathologies.
Ophthalmoscope: Aperture with large circle for examination of the fundus of the eye. Focussing wheel with corrective lenses
Technical Parameter
It's with 2.5 V halogen lamp,similar to daylight,adjustable luminance.
Swivelling viewing window with 1X-2x magnification Contain 3 reusable metal aural specula of 2.4, 3.2 and 4mm Diopter.
Packaging
20 SETS/CTN, CTN SIZE: 60X26X29 CM
* Support customizing your private brand logo!