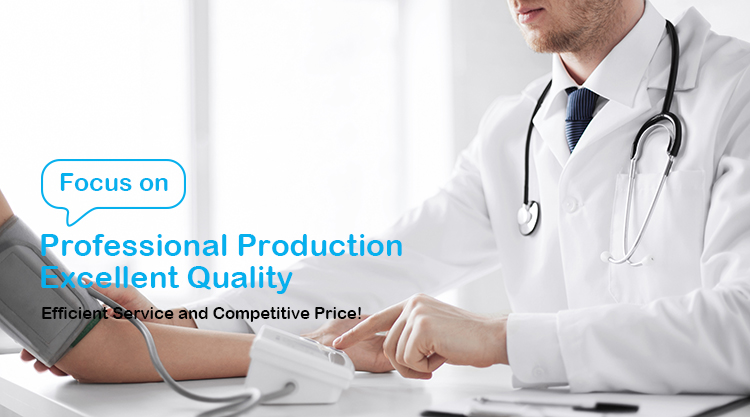 MEDICAL ENT Diagnostic set
MEDICAL ENT Diagnostic set has CE and FDA certificates and meets European and American standards.

Materials of ophthalmoscope and otoscope, aluminum alloy and plastic, etc.It is a professional electronic ear speculum, which is suitable for the examination of the eye, ear, nose and throat department, hearing aid store and the examination of your own ear canal and eardrum.
Product Description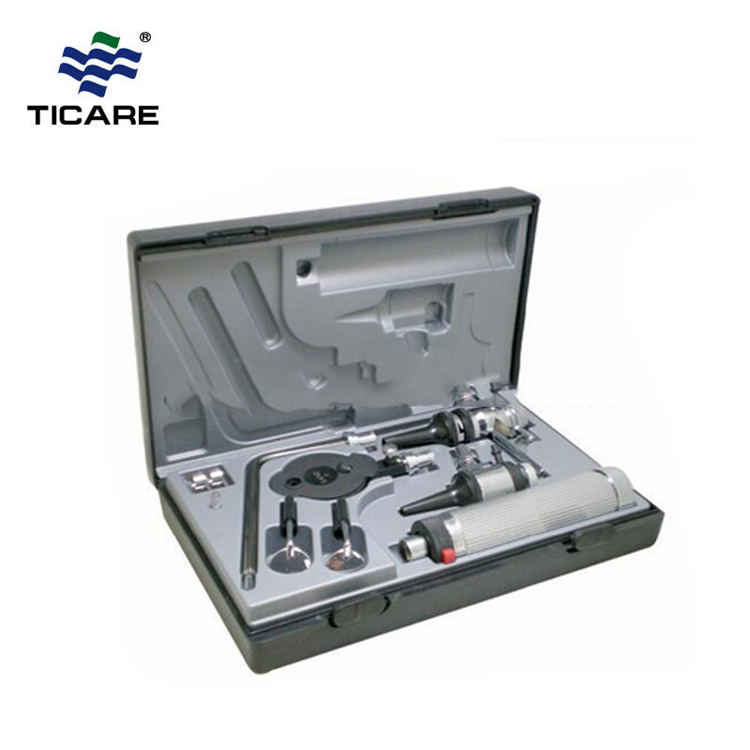 ENT Diagnostic Set
Contents:

1

-1 otoscope with swivel magnifying lens




-simple to attach and swivel 360°,4-fold magnification




2

-3 sizes ear speculum

-reusable specula (2,3 &4mm) with stainless steel fitting




3

-1 ophthalmoscope with lens wheel




-Correcting lens diopters ranging from-20 to +20




4

-1 bent arm Illuminator




5

-2sizes laryngeal mirrors

6

-1 battery handl("C"battery not included)

-ageing-resistant chrome-plated metal head

- bayonet conector for quick and secure attachment to handle

7

-1 Batteries

- 2xAA batteries

8

-1 tongue depressor holder




9

-1 spare halogen lamp




-HL2.5V halogen lamp,similar to daylight,simple exchange of lamp at the front of the instrument head




Packing:

- manual

- plastic box

- PE bag

- color paper box
Feature:
Otoscope: View the tympanic membrane , external ear canal to diagnose outer and middle ear pathologies.
Ophthalmoscope : Aperture with large circle for examination of the fundus of the eye. Focussing wheel with corrective lenses
Technical Parameter:
It's with 2.5 V halogen lamp,similar to daylight,adjustable luminance.
Swivelling viewing window with 1X-2x magnification Contain 3 reusable metal aural specula of 2.4, 3.2 and 4mm Diopter .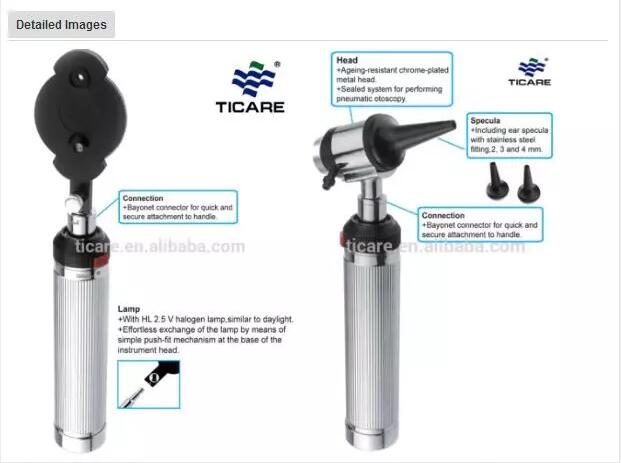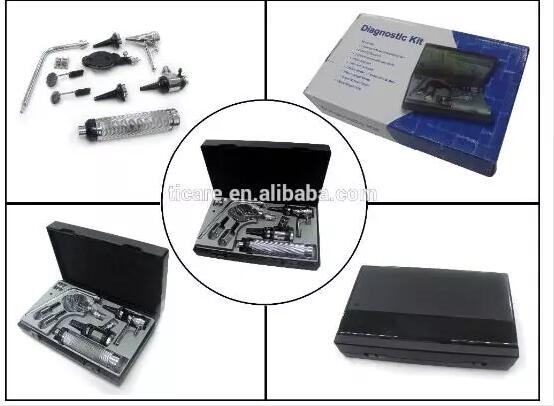 Company information
ABOUT US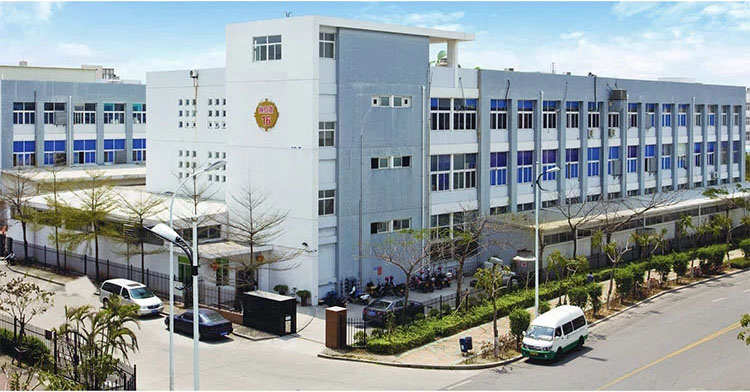 Fujian Xiamen TICARE Import And Export Co.,Ltd. Specializes In Medical, Production And Sales Of Medical.
It's Main products include manual resuscitator, Medical bandage, Medical Tape, Rehabitation Equipments,Non-woven products.Our company is professional manufacture hospital using uniform and hospital shoes and so on. There are professional manufacture team and sales team and after sales service department.
Our Factory



Our factory specializes in the production of medical consumables, the manufacturing team of the medical
device industry, the sales team and the after-sales service department.
Exhibition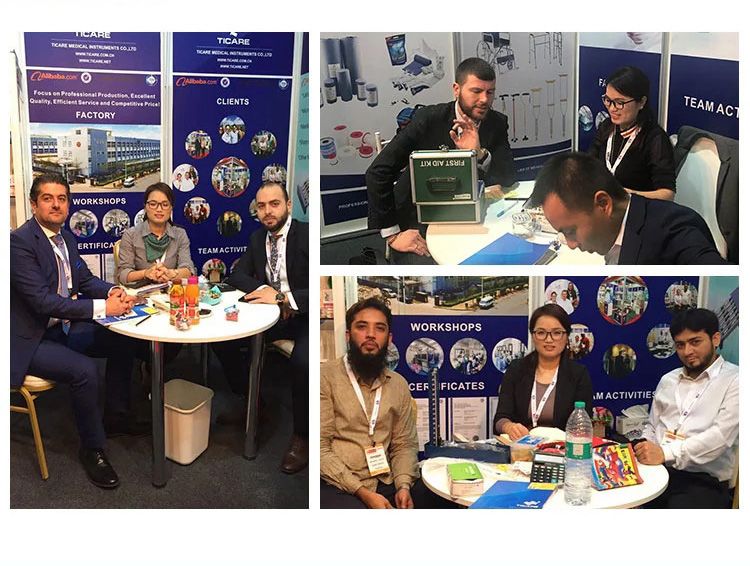 Certificate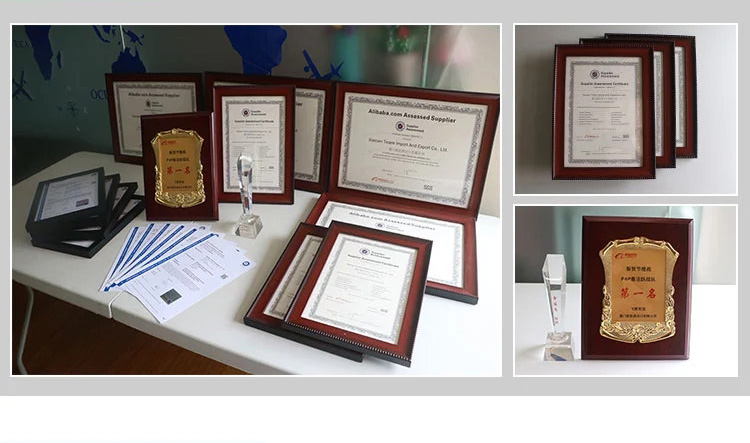 Packaging and shipping

Contact us
Contact or send message to us! Get information about recent promotional activities!

FAQ
1. What is the MOQ?
Different item with different requested,generally no less than 2000 usd for one order(sample order could be discussed)
2.Is sample free available before order confirmed?
Most of consumables sample could be free for you. But as a basic, sample freight collect.
3.How to place order?
A. Contact us online directly or send enquiry list with item name, Specification & quantity to our email address, a specific
seller will contact and negotiate with you about all details.
B. TT Pre-payment 30%after received our proforma invoice, and then start to production.
C. Shipping & pay the balance 70% while we are making all documents to you.
D. We will keep in touch with you after you got the goods for a better service and your any kind suggestion.